Operated by East Japan Railway (JR East), the JR Yamanote line is one of the busiest and most celebrated railways in Japan. Named for Yamanote, the hilly western part of central Tokyo, its green-liveried carriages are a symbol of the capital. The Yamanote forms a 34-kilometer loop through the heart of Tokyo, connecting 29 stations including the hubs of Shibuya, Shinjuku, Ikebukuro, Ueno, Tokyo and Shinagawa. Trains travel on two tracks, with the outer circle line, or sotomawari, running clockwise, and the inner circle line, or uchimawari, running counterclockwise.
Entirely above ground, and sometimes on elevated tracks, the Yamanote Line is a great way to see and get around Tokyo. All trains stop at every station and a journey around the whole loop takes about an hour. While trains run every few minutes, expect jam-packed carriages during peak hours – the loop carries over 3 million passengers a day!
At Shibuya Station, the Yamanote Line is on platforms 1 and 2.
Trains on platform 1 are for Shinjuku and Ikebukuro
Trains on platform 2 are for Shinagawa and Tokyo.
Yamanote Line Map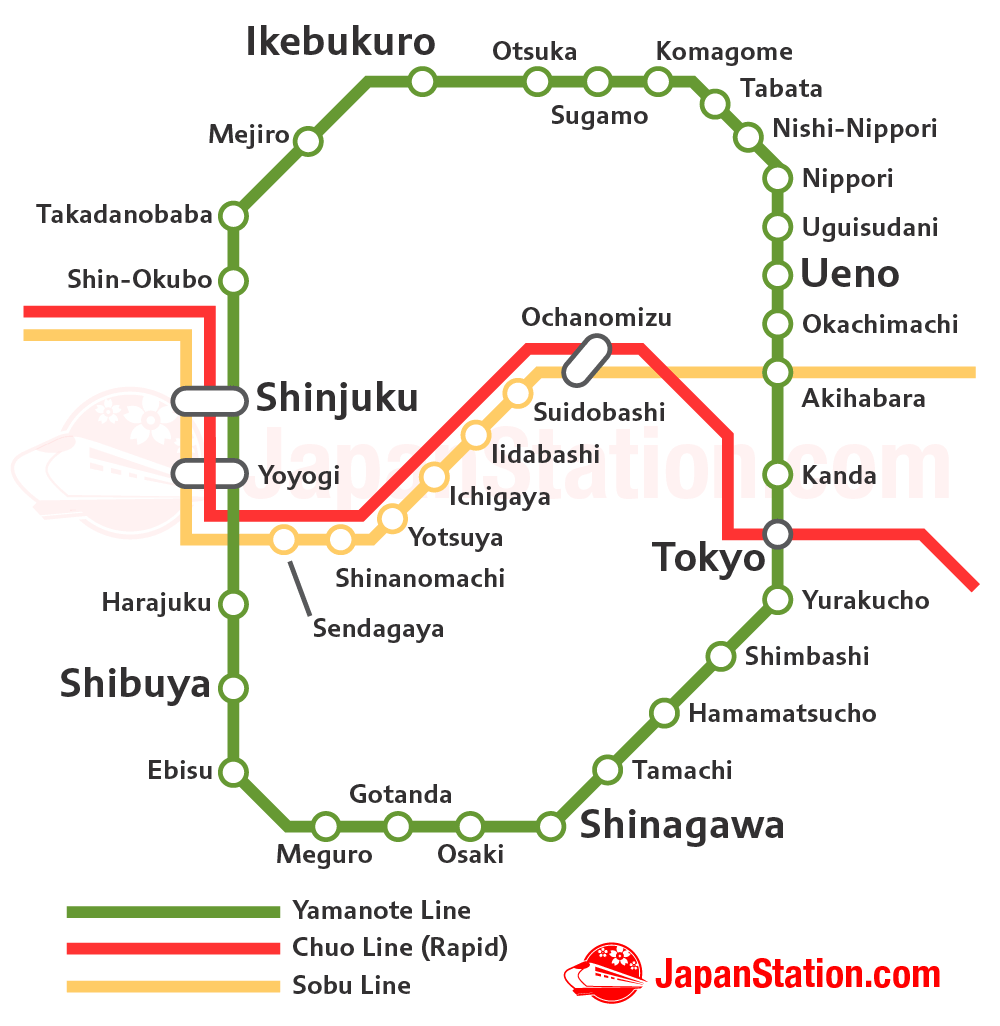 Key Destinations
Harajuku Station
One stop north of Shibuya, Harajuku Station is a gateway for the Harajuku, Takeshita and Ometesando fashion and shopping districts, as well as the urban oasis of Yoyogi Park and Meiji Jingu Shrine, which are heavily forested. The green space has restricted development of the station so that Harajuku Station, which marks its centenary in 2016, retains its original Victorian appearance.
Train fare: 140 yen
Train time: 2 minutes
Shinjuku Station
This massive hub north of Shibuya has numerous intercity rail connections to points west, south and north of central Tokyo including the Mt. Fuji and Hakone areas, Shonan, Mitaka (Ghibli Museum), Okutama, Mt. Takao, and Saitama. The Narita Express also stops here. Exit at Shinjuku for the Tokyo Metropolitan Government Buildings, the Kabukicho and Golden Gai nightlife districts, as well as the shopping areas around Shinjuku Station.
Train fare: 160 yen
Train time: 7 minutes
Ikebukuro Station
This hub on the northwest arc of the Yamanote Line loop is a city unto itself, and is one of the world's busiest train stations. It has retail outlets such as the Tobu, Seibu and Marui department stores, Bic Camera and Yamada Denki electronics shops, the Sunshine City mall complex and the Tokyo Metropolitan Art Space. Rail connections serve stations such as Kawagoe, Seibu-Chichibu and Wakoshi. The Narita Express also stops here.
Train fare: 170 yen
Train time: 16 minutes
Ueno Station
This hub on the Yamanote's northeast reaches is a bullet train station and a departure point for the Tohoku, Yamagata, Akita, Joetsu and Hokuriku Shinkansen lines. Ueno Station is the main terminus of the 575 km-long Tohoku Main Line serving cities north of Tokyo, as well as a connection point for Narita International Airport (via the adjacent Keisei Ueno Station).
Ueno Station is right beside Ueno Park, home to some of Japan's most famous museums and flowering cherry trees (sakura), as well as Ueno Zoo. The nearby Ameyoko shopping area is also a major draw.
Train fare: 200 yen
Train time: 32 minutes
Akihabara Station
Exit here for Tokyo's renowned Akihabara electronics district, home to retailers ranging from giants like Yodobashi Camera to creaky old stalls selling electronics components for motherboards and do-it-yourself home security systems. Recent decades have seen the rise of otaku (geek) market shops serving the manga, anime and video game trade. There's also a thriving maid cafe industry here – look out for the street touts in French maid costumes.
Train fare: 200 yen
Train time: 28 minutes
Tokyo Station
The starting point for Japan's most popular bullet train line, the Tokaido Shinkansen, Tokyo Station is also the beginning for the Tohoku, Yamagata, Akita, Joetsu and Hokuriku Shinkansen lines. It's also a terminus for the Keiyo Line, serving Tokyo Disneyland. The Narita Express also stops here. The recently renovated Marunouchi side of the station, designed by Kingo Tatsuno and built in 1914, looks toward the Imperial Palace and the Marunouchi business district.
Train fare: 200 yen
Train time: 24 minutes
Shinagawa Station
This complex on the southern part of the Yamanote Line hosts a station for the Tokaido Shinkansen line as well as depots and railways including the Keikyu Main Line, which connects to Haneda Airport via the Keikyu Airport Line. Shinagawa is a growing travel hub, with a clutch of nearby hotels, as well as an emerging business district. The Narita Express also stops here.
Train fare: 170 yen
Train time: 12 minutes
Article by Tim Hornyak. All rights reserved.